Are you a water person?
By 
Pandora Nash-Karner
I love the water! I swim, surf, sail, kayak, watch, walk along the shore and daydream. When I started studying navigation and began to understood the purpose and history of lighthouses, I added them to my list of things I love about the sea. They have served as navigational aids since Ptolemy constructed the first one in 280 BCE and as a result have warned boats of dangerous areas ever since.
There was a story told in my navigation class. "The captain of a U.S. Navy warship is on a collision course with what he thinks is a Canadian ship. He orders his communications officer to demand that the Canadian ship change course. However, the response back is 'Change your course!' Incensed, the U.S. Navy captain puffs out his chest and gets on the radio himself and emphatically says, 'This is the U.S. aircraft carrier USS Lincoln, the second largest ship in the United States' Atlantic fleet. Change your course!'
The response back is 'No Sir, I suggest you change your course.' Furious, the U.S. Navy captain shouts into the radio, 'I am Captain Higgins, of the USS Lincoln. We are accompanied by three destroyers, three cruisers and numerous support vessels. I demand you change YOUR course 15 degrees north, that's one-five-degrees north or countermeasures will be undertaken to ensure the safety of this ship. Do you understand?'
The reply from Canada was simply, 'Sir, this is Able Seaman Dubois of the Canadian Coast Guard. I don't care who you are Sir! — I'm a lighthouse. Your call.' "
Traffic signals along the coast

Lighthouses are like traffic signals on the sea and have long prevented disasters and saved lives. There's a romance about them. They have captured our imagination for centuries. Today, automation has replaced the role of lighthouse keepers, yet there is a curiosity that remains regarding these reassuring structures and the tales their former guardians have to tell.
Does your bucket list include a fully restored lighthouse? Well, we have one for you.
San Luis Obispo County has two operational lighthouses: Point Piedras Blancas, 5 miles northwest of San Simeon and Point San Luis, 12 miles plus and a trolley ride southwest of San Luis Obispo.
This is about Point San Luis, just a 25-minute drive from the Green Cottage is the staging area for the Point San Luis Obispo Lighthouse. There are docent-led tours on Wednesdays and Saturdays. Make your reservations here: http://pointsanluislighthouse.org/tour/

The Point San Luis light station is fascinating. The lighthouse has always been a symbol of hope and  salvation. They illustrate the better side of mankind's concern for his fellow man. Thefirst time I saw the lighthouse was in the early 1980s. Windows were broken, cobwebs were everywhere, wallpaper was faded, paint was peeling and the buildings showed years of neglect. But the place itself held an essence of mystery, intrigue and so much history.
Saving lives for over 130 years
Founded in 1890, the Point San Luis Light Station has saved many lives in its time and served as the beacon over San Luis Bay for 130 years. It is still operational and is now a museum. From its induction under the United States Lighthouse Board, then the Lighthouse Service, and currently under the auspices of the U.S. Coast Guard, the Point SLO Light Station has had a varied and exciting past.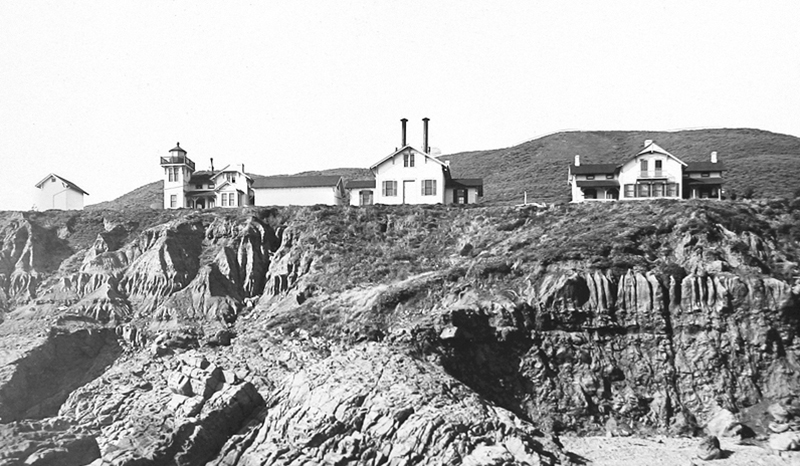 In 1991 the Point San Luis Lighthouse was added to the National Register of Historic Places, #91001093. Ownership of the thirty-acre light station was transferred to the Port San Luis Harbor District in 1992. The Point San Luis Lighthouse Keepers, a 501 (c)(3) non-profit, was formed in 1995 to restore the light station. After 100,000 volunteer hours, the site wascompletely restored. The "Keepers" maintain it, and share its valuable history with visitors and locals alike. The lighthouse is able to operate as a destination historic site thanks to the participation of PG&E and the Port San Luis Harbor Commission.

Interior restored
The interior has been restored to how it may have looked when the lighthouse was built in 1890 and is furnished with period pieces provided by a local chapter of the Questers, an organization that keeps history alive by supporting preservation, restoration and education.The fog signal building oil house, two cisterns, two duplexes and a privy remain and have also been restored and painted.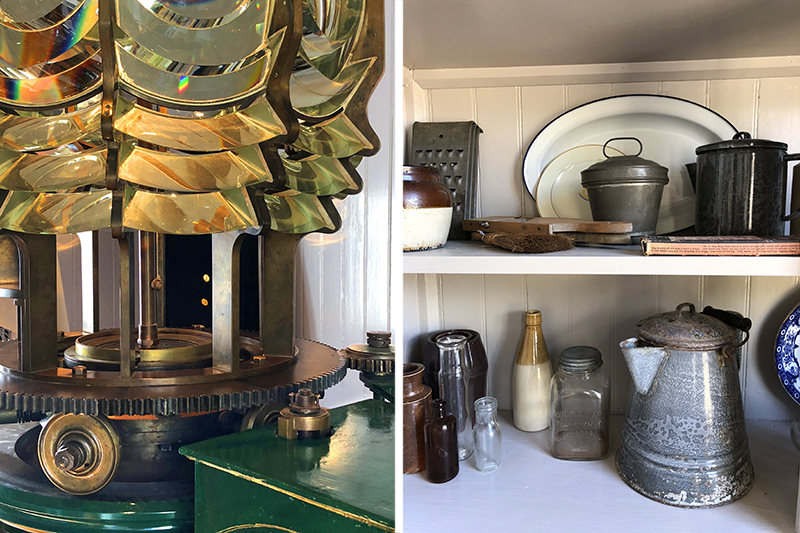 The Coast Guard now uses a plastic beacon as a light for ships, which is as effective but far less sexy than the fourth-order Fresnel lens that is now on display in the fog signal building, which houses the old horn that would sound when the light could not reach the ships. The lens is about two and a half feet tall, standing on a turret that rotated when it was operational. If you're a fan of lighthouse lenses, or just interested in cool pieces of glass, the Fresnel lens will definitely dazzle and delight you.
Even with GPS technology lighthouses are still used
There are 700 operational lighthouses still maintained in the United States, all of them are fully automated with the exception of the Boston Lighthouse. Congress has declared that light will always be a staffed station, because it is the country's first lighthouse. There the keepers must still turn the light on at night and turn it off at daybreak. Boston Light is the only official lighthouse with a real keeper. 
While lighthouses still guide seafarers, nowadays, the Global Positioning System (GPS), NOAA's nautical charts, lighted navigational aids, buoys, radar beacons, and other aids to navigation effectively warn mariners of dangerous areas and guide them to safe harbors.
Many old lighthouses have been given new lives as bed-and-breakfast inns, museums and hotels, and some, like Point Fermin and Point Vicente, on the Palos Verdes Peninsula, are part of state, city or national parks.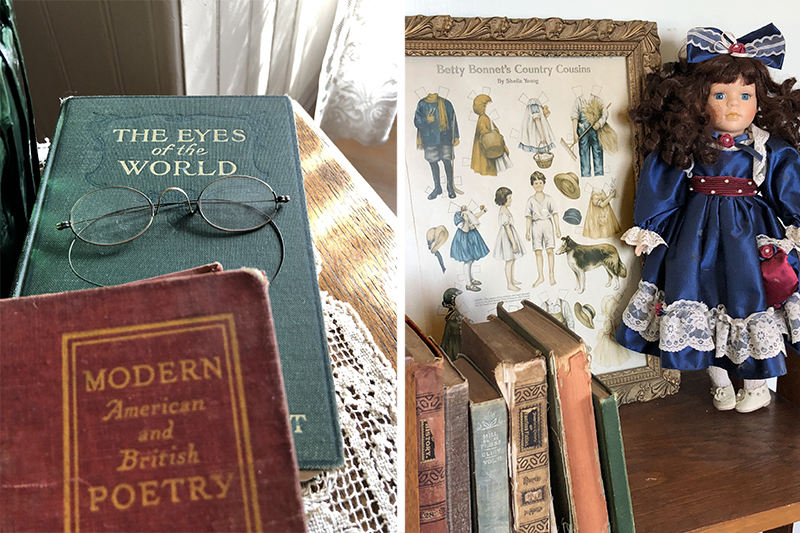 Lighthouse needed for safety
It was in the 1850s, during the Gold Rush, that California developed a need for lighthouses. In 1873, nearby Avila was becoming a booming hub for shipping and passenger travel. It was the terminus of a railway from San Luis Obispo. John Harford built a 1,500 feet pier in 1876 to accommodate the traffic. Over 400 ships' rounded Point San Luis every year, a very rocky and dangerous point. It became clear a lighthouse was needed to protect commerce to and from the area. Locally grown agricultural products were shipped from Avila, and schooners loaded with timber off-loaded at this port. Steamers from the Pacific Coast Steamship Company averaged one steamer a day year around, carrying both passengers and freight. Port San Luis had become one of California's most important roadsteads where ships could shelter safely from tides and swells.
Dense fog creates deadly hazard
But the bay is subject to dense fogs for much of the year and with the rocky coast, it can be very dangerous in all but clear daytime weather. In 1885, Congressman Romauldo Pacheco convinced Congress to construct Point San Luis Lighthouse in the unlighted 94 miles between Point Conception and Piedras Blancas. Congress provided $50,000 in 1886 for a fourth-order Fresnel lens light and fog signal. The inspector and engineer of the twelfth lighthouse district (California) decided that both the light and fog signal should be placed on the mainland at San Luis Head.
Plans moved ahead to build the lighthouse but were halted when the project suffered delays and setbacks. Acquiring a deed to the desired parcel proved difficult and the first bids on the project were too high. But the desperate need for a lighthouse was emphasized on May 1, 1888 when the steamship Queen of the Pacific began taking on water fifteen miles out from Port Harford. The captain headed for the port, but with no light to mark the harbor, he was forced to make his way slowly in the dark. The water-laden steamship finally settled to the bottom of the harbor just 500 feet short of the pier. Fortunately, a good portion of the ship remained above the waterline, and the passengers were safely off-loaded. 
Dramatic rescue becomes lighthouse catalyst
This became the catalyst. After the rescue of the passengers the lighthouse was re-prioritized and the project was fast-tracked. Engineer/architect Paul J. Pelz, the future architect of the Library of Congress,was a civil engineer for the U.S. Lighthouse Board. He designed many lighthouses in the late 1800's including Point San Luis Lighthouse and two other identical lighthouses in California, one at Table Bluff near Humboldt and the other at Ballast Point near San Diego. Of the three, Point San Luis is the only remaining lighthouse of its design. It is a two-story home built in the "Prairie Victorian" style with impressive redwood planks.
Point San Luis lighthouse began in 1890
The lighthouse was completed and operational by June 30, 1890, and included a 4thorder Fresnel lens showing red and white flashes alternately, with intervals of thirty seconds between flashes. It was visible up to 17 nautical miles across the Pacific Ocean.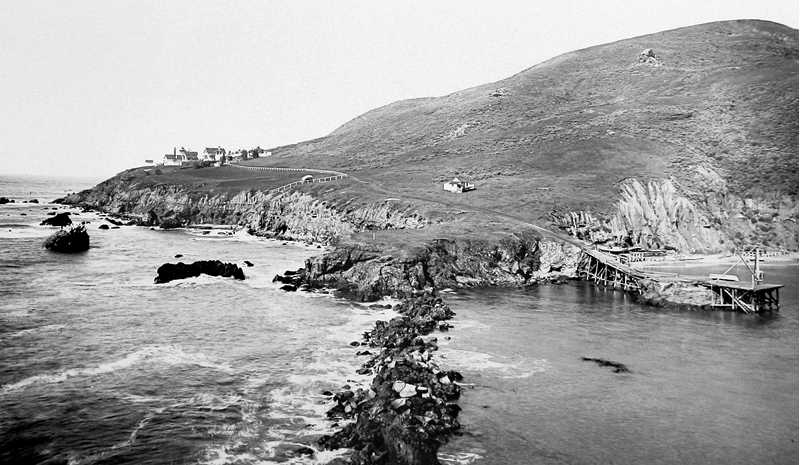 A first-class air siren, which was operated by gas engines and air compressors replaced the station's steam whistle in 1915. The station was electrified in 1935. The fog signal was also changed at that time to a type "F" diaphone, aspecial tone generator involving a piston vibrating inside a cylinder, which had slots through which air was discharged.During World War II, a radio listening station was built near the lighthouse, necessitating the erection of a second duplex.
From it's inception Point San Luis Lighthouse was staffed by a head keeper and his family and two assistants. Besides operating the light and fog signal, the men kept an eye out for anyone in trouble on the water. There are many stories of ship wrecks and daring rescues off this rocky point of land.

The Fresnel lens was deactivated in 1969 and was replaced by a modern beacon. Staff remained at the station until the lighthouse was decommissioned and fully automated in 1974. The current light is maintained by the U.S. Coast Guard and is a Vega VLB 44-2.5 LED light, which blinks one second on/four seconds off, every night, and is visible up to 17 miles away. I have used the Point San Luis Light many times while passing that point of land, usually in the fog. Regardless of my paper charts, multiple GPS devices and radar, I was very comforted to see it.
In 2005, the National Parks Service approved the 'Historic Structures Report and Treatment Plan,' the guidebook for restoration of the site. This valuable document, compiled by the volunteer effort of San Luis Obispo engineer Robert Vessely, P.E., marked a turning point in the efforts to restore the site and buildings.
Original Fresnel lens now on display
In early 2010, the year San Luis Obispo Lighthouse celebrated its 120th anniversary, the Fresnel lens was returned to the station and placed on display in the horn house, which has been converted into a visitor and history center. The lens had been removed from the lighthouse in the late 1970s after it was shot with a .22 caliber bullet and had been on display in San Luis Obispo County's historical museum.

Lighthouse open for visitors to tour
Now the station is operated as a historic site and is open to visitors. The Point San Luis Lighthouse Keepers purchased a trolley and began offering tours to the lighthouse on the one-lane road that was rebuilt at a cost of $1.3 million. You can reach the property by taking the trolley, by hiking with the Pecho Coast Trail Guides who lead docent-led hikes to the station, or by kayaking to Whalers Beach.

The park is open from sunup to sundown.
Looking for a great hike?
If you're looking for a hike to a historic site on California's Central Coast with abundant ocean views, check out the 3.6-mile round trip hike on Pecho Coast Trail to the Point San Luis Lighthouse. The hike near Avila Beach crosses land owned by PG&E that is accessible only with a trail guide on organized treks. On the way to the lighthouse, you'll enjoy sweeping views over Avila Beach and San Luis Obispo Bay, while learning a bit about the area's plants, geology, and history. The trail ends at the restored Point San Luis Lighthouse, where you can get a $10 tour that explores the tower and residence at the lighthouse.
Lighthouse Kayak Tour
For a fun and unique way to access the Point San Luis Lighthouse, get there by paddle! Connect with a local kayaking outfitter for a tour of the Avila Beach coastline, including a stop at the beach on Point San Luis. Follow your guide up the hill to the Point San Luis Lighthouse, where you'll get to explore the exterior and interior of the restored landmark. This tour also includes time to see local wildlife on the breakwater, including sea lions, harbor seals, and sea otters.

HIKE: Wednesdays and Saturdays at 8:45 a.m. For information and to reserve a spot call 805-541-8735 or visit PG&E website: The docent-led hike is $10.00.
https://www.pge.com/en_US/residential/in-your-community/local-environment/diablo-canyon-trails/diablo-canyon-hiking-trails.page?WT.mc_id=Vanity_trails
TROLLEY TOURS: are operated by the Point San Luis Lighthouse keepers. The cost is $25 per person, $20 for kids 12 and under and free for under 3. Call 805-540-5771 or click here to make reservations: http://pointsanluislighthouse.org/tour/
Visit California's central coast. Stay at the Green Cottage and book your reservations to visit the Point San Luis Lighthouse. Experience what it was like to live there 130 years ago.
For more information:
See:
https://en.wikipedia.org/wiki/United_States_Lighthouse_Society
https://en.wikipedia.org/wiki/Lighthouse_keeper
https://www.ledvance.com/professional/fascination-light/history-of-lighthouses/index.jsp
https://www.theguardian.com/commentisfree/2014/apr/12/lighthouse-islanded-souls-symbols-humanity
https://time.com/4489223/lighthouses-american-history/
https://en.wikipedia.org/wiki/National_Register_of_Historic_Places
https://www.nps.gov/articles/lighthouse-keepers.htm
https://www.countryliving.com/life/travel/g2422/the-30-prettiest-lighthouses-in-america/
https://www.chicagotribune.com/news/ct-xpm-1998-11-16-9811160076-story.html
https://www.hakaimagazine.com/article-short/dark-side-lighthouses/
https://www.navcen.uscg.gov/pdf/lightLists/LightList_V6_2018.pdf
References:
Crompton, Samuel Willard & Michael J. Rhein, The Ultimate Book of Lighthouses (2002) ISBN 1-59223-102-0; ISBN 978-1-59223-102-7.
Jones, Ray & Bruce Roberts, American Lighthouses (Globe Pequot, September 1, 1998, 1st Ed.) ISBN 0-7627-0324-5; ISBN 978-0-7627-0324-1.